A bit of a diary of my last big ride of the year:

10/17 Two day ride to Lander WY. Just me on the Venture. Playground install near there.
Playground company paying me to work with them to learn finer points on install.

Good trip over to Great Falls, had brunch with my brother Curtis and then he rode his goldwing along with me as far as Stanford.
Then I continued on to Billings where I spent the night at Eric's.

Eric BBQ'd up a bunch of chicken... really good!! Then Eric rode with me as far as Cody WY Monday AM.
We tested out our rain suits for most of the way and Eric said he was glad he had his on for the ride home.

I put mine back on about 40 miles south of Cody as I was catching up with the rain.
Glad I did, then put about 20 miles of distance between me and the rain and stopped and got out of excess clothing. Warmed up to mid 60's and I was sweating.

Always enjoy the Wind River Canyon! Rode out of it and the wind was a sustained 35 mph with gust to 60+. That way to Lander. I was very tired when I got to motel.

Checked phone msg's and discovered the playground can't be delivered until Wed.
Day to kill, would ride, but snowed pretty hard during the night.
Roads seem wet, but will wait until temp gets above freezing before sightseeing.

~~~~~~~~~~~~~~~~~~~~~~~~~~~~~~~~~~~~~~~~~~~~~~~~~~~~~~~~~~~

Updated 10/22 So, I decided at 4:15 pm on Thursday to head towards home. Weather reports were for cold and scattered snow in WY.
Montana was rain turning colder with cold front coming down from Canada.
I figured that if I made it to Billings Thursday night / Friday AM I would have a good chance of getting home on Friday if one of the passes was passable on the bike.

I pulled into a rest stop about 15 miles south of Meeteetse (30 miles south of Cody), to let the evening get into dark so I could see critters better.
Good stretch for the legs. Took off from there when it was good and dark. Still managed to hit a bunny rabbit.... was only doing about 80 I think, rabbit was not as fortunate as I....
Kept the bike up, but scared me a bit so slowed down to 75, like that would make a difference.

When I was a few miles south of Cody a car slowly came up behind me and stayed back about 100 yards or so.
BAM!!!! Wind from the west hit me like a freight train!!! I have been is some high winds, but this was nothing like I have ever experienced before.
I fought to keep control of the bike all the way into Cody, about 10 miles.
When I got to the turn on top of the hill I could see what I thought was dust, but turned out to be water from the lake about 50 yards from the road.
I got wet on the left side, just like someone threw a bucket(s) of water on me. Still fighting to stay on pavement in upright position. Turned left to head into town, straight into the wind, bike thought that was better that side wind and I agreed whole heartedly!!!

Pulled into town and stopped at service station for gas, ($2.109 a gallon!!!!) Wish I could have bought more at that price.
Stretched a bit, tried to relax some muscles that were really tight after the wind, and headed through town thinking if I was to hit that
same wind north I would turn around and find motel.... so kept eye open for a cheap place that might be open.
Talked to a couple of truckers coming into town from Montana and was told there is a wind adisory for south of Cody, trucks not recommended to be on road..... would work for m/c's also.
They said the wind was not bad to the Montana border so kept on going. A few strong gusts, but drivable. Saw a beautiful coyote on the side of the road and while slowing to look at him
did not see the other one running across until the last second..... missed it by
about a foot! Decided to take stock of situation:
Up since about 5:30 am, worked outside til almost 4 pm, packed bike, departed
Lander WY in need of a shower, (that would have helped me), it is now 9 pm and very dark and still windy: yep, getting a bit tired so time to wake up.
Want to make it home. Mentally became more alert and it helped a lot. Roads have been dry to this point..... here comes the Montana sign..... and just
like a knife cut the road becomes wet... go figure. A pretty good shower had
gone through a bit before me and was now just a few sprinkles now and then.....
have not seen a deer all day and getting jumpy. Road gets a lot less friendly in Montana,
narrower and not as good driving. Slow down time! Pulled over in Bridger to clean windshield and stretch.

Found a rest area just the other of town so stopped and took a real break,
called friend in billings that was expecting me to let him know where I was and back on the road.
No rain to speak of, just sprinkles here and over there.... Went to get off freeway into Billings and it started to rain, not a little bit, either.
10 minutes across to friends house and I was getting wet. Was not stopping to put rainsuit on for 10 minute ride.....
Whew, 10:45 and I was there, his 'better half' had pulled her car out of
garage so I could park inside.... pretty nice people if you ask me!!
Walked in door and they pushed a towel into my hands, said "it is all yours"
and I found myself on their privacy porch with the hottub bubbling away,
once in the tub with Eric's last beer, (did I mention good people yet?),
I am relaxing and thinking: "don't fall asleep, or you might pour the beer into the water!!".
Got to get me a hottub.... Next AM I check highway webcams and road temps to find northern 2 passes are snow covered,
Bozeman pass is just wet and Montana has still not put a webcam and surface monitor in Homestake pass east of Butte.
Take off to some pretty stiff wind about 11 am... gas in Columbus, 1/2 inch of
slush on top of bozeman pass, but not slippery at all, but snow covered the front of the bike.
Dropped out of that in a couple minutes and road was dry again from bozeman....
Few showers in area, but did not get hit.. kept cruise control on 85 and was almost slowest thing on the road.
Homestake pass was one lane dry all the way over....
Stopped on top at the truck pull out and used restroom. Stretching and walking around a bit and this mini-van pulled up.
This old indian got out and came up to me and said: "Where you the guy at Cody last night?".
This was the guy in the car that followed me from Meeteetse!!!
He said that it seemed my bike was picked up by the wind several times
and placed on the shoulder, and I would get back to the center line.
45 degrees lean to left was what he figured I was doing to keep upright.
He said when he came up behind me he felt he was to stay back there
and keep an eye on me. I thanked him very much, because if I was to
have been blown off the road I would not have been found until morning. Couple rain showers from there on until MT 200.
Took the route around the bison range to miss construction, saw black clouds
with serious rain coming over St Ignatius and to the west of the bison range.....
lighter area where the road I was on was...... It rained hard on me,
but nothing like it would have been to either side.. Bigfork saw me pulling into the park by the one lane bridge waiting for
the dark to get there, clean windshield and stretch. Home about 8 pm. Just over 1500 miles total trip, but some very cold and windy riding.... Want to get back out and ride.... Will have to think seriously about living a bit further south.....
and that hottub thing....

Look at the tire on my bike and you can see the water marks on one side but the other side is bare from 45 miles of riding at a pronounced lean to the right.
Tuesday morning in Lander. I see now that there is a covered area I can park in, but did not see it last night.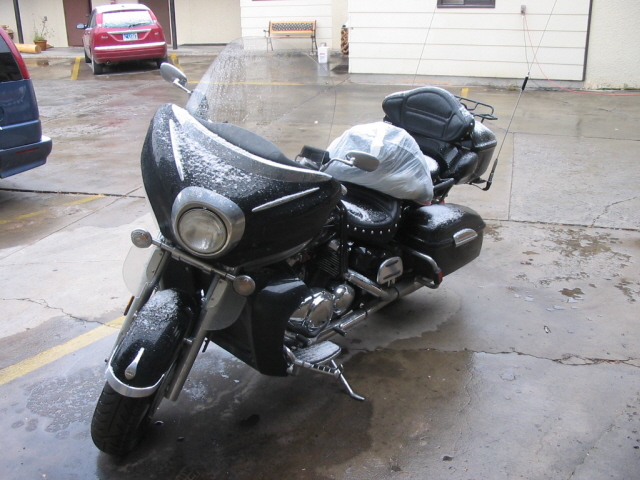 Kawasakie dealer across the street from Motel. Some nice looking machines.